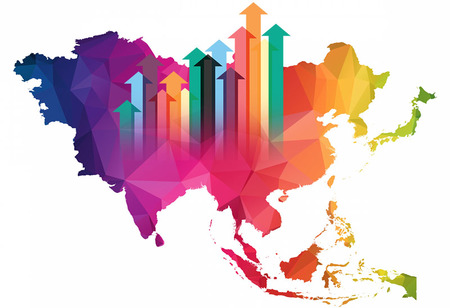 Asia houses more than 4.5 billion people; this makes it the world's most populated continent, which roughly accounts for 2/3 of the global residents. In the last epochs, Asia has witnessed an incredible technological uproar with relatively stable economies. Also, the GDP growth in various regions' economies surpasses the ones from Western countries. Furthermore, a recent report predicts that the Asian economies are likely to be larger than the rest of the world combined in 2020. Thus, Asia's accelerated economic growth and stability are vital reasons for it to be considered as a huge opportunity to expand abroad.
In the last six decades, Asia has undergone spectacular economic growth and has turned to be a breeding ground for innovative, fast-moving, and competitive businesses. Ever since 1960, Asia has grown richer swiftly compared to other regions of the world.
Certainly, this growth has not occurred at the same pace all over the continent. The eastern part of the continent and, more precisely, China, Thailand, Indonesia, South Korea, Hong Kong, Malaysia, Singapore, Taiwan, and Vietnam have been championing economic growth. Likewise, nations like Myanmar, Cambodia, and Laos are now budding as promising growth opportunities in the near term.
It is obvious that one may venture afar to the Promised Land to develop a business that resonates with the essence of exponential leadership. Since 2000, Asia's upswing has been one of the astonishing economic stories of the 21st century. In the initial days of millennials, China was a $1.2 trillion economy; if one merged China with India and Indonesia, it could be noted that it still had a GDP that was less than a tenth of the G7's. Presently, the GDP of China alone is approximately $15 trillion, and India and the countries of Southeast Asia have arched much higher positions among world economies.
In 2000, at least 1 in every 20 Fortune 500 companies was built in Asia, and only one of every nine patents approved globally was to an Asian company. This would have been difficult to calculate the Western-to-Asian ratio of unicorns - a proxy for the dynamism of a region's startup sector—as Asia had no unicorns. Currently, Mainland China alone has several companies than the US in the Fortune 500. Budding Asia (China, India, and Southeast Asia) has various companies emerging much faster than Western companies. And Asia has turned home to one-third of the world's unicorns.