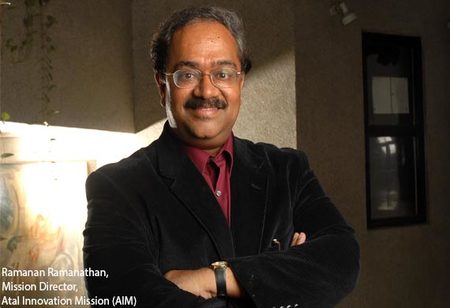 The world is undergoing a dramatic reshuffling in its economic order. The most innovative nation will emerge as the winner. While India is also in this race, innovation-fuelled ecosystem is still at its very nascent stage. In the Global Innovation Index 2019, our country ranked 52nd. Though we jumped five spots from 2018, we still have a long way to go. But despite being the youngest nation of the world, why do we lack in innovation?
It is because innovation-based ecosystem is absent in the ground level. School, colleges and universities still believe in the rote learning method, and our students are first introduced to innovation when they enter IITs or an entrepreneur cell or incubation centre. Grooming ideas and nurturing them since childhood is the only solution. Just like corporates, schools too need to provide a platform to their students to experiment and fail.
Ramanan Ramanathan, Mission Director, Atal Innovation Mission (AIM) too seconds my thought. Being the director of AIM, Ramanan has been instrumental in driving an innovation-based ecosystem right from the school level through to becoming an entrepreneur. I discussed with him more to know more about the contribution of AIM in enabling 'innovation' ecosystem within the country and its contribution towards empowering women entrepreneurs in the nation.
What according to you is the definition of 'Innovation' in today's context?
Let me go back to the need of innovation and entrepreneurship in India. As you rightly pointed out that India has not been at the forefront of innovation and entrepreneurship. But since the last couple of years, the Government of India has been taking tremendous interest and there is a very good reason for it. Indians have excelled wherever they have gone; engineers, scientists, doctors, philosophers, artists, you name it and we are there.
"But unless you create a nation of job creators rather than job seekers, you are not going to create a positive impact on 1.3 billion people of our country"
But whenever they have access to an innovative ecosystem which enables them to realize their full potential, especial the creative side, they rise to the highest level. Our best examples are Satya Nadela, Sunder Pichai, and many more who are ruling the global multinational organizations. Clearly, it's the ecosystem that makes the whole difference. Our government and corporates have realized this gap across various levels. We know that a major chunk of our graduates are unemployable, but unless you create an innovative mindset and a culture of innovation, and familiarize people that innovation is all about looking at a problem which has not been solved or can be solved using better methods, we cannot inculcate a problem solving and innovative mindset. So the very first step to innovation is identifying the problem.
You very rightly said that. But how is AIM helping India achieve this mission of innovation?
India is a beautiful country and the demographic dividend we have is a great pride. About 65 percent of our population is less than 35 years of age and we have 1.4 million schools and 10,500 engineering institutions, 39,000 colleges and 150 million students entering into the work in the next five years. So how are we going to harness this useful energy with the purpose of driving economic growth of the country with a socio-economic point of view is of our prime importance. But unless you create a nation of job creators rather than job seekers, you are not going to create a positive impact on 1.3 billion people of our country.
To do that, we need people to embrace innovation and wear entrepreneurship hat to take up challenge heads on. The existing companies alone will not be able to feed the influx of 150 million students entering the job market, and you don't want the demographic dividend to become demographic nightmare. So considering all these points, GoI said 'how do we drive innovation and entrepreneurship across the country'. And hence AIM was formed with two purposes – creating innovative mindset right from the school level, and having a job creator attitude. The result will be a student who knows the challenges and opportunities of the industry when they enter it. This will also help boost our startup ecosystem.
How do we achieve this? Through our three initiatives – Atal Tinkering Labs (ATL), Atal Tinkering Marathon (ATM), and Atal Community Innovation Centre (ACIC). We have launched thousands of ATL across the country, which are dedicated innovation work spaces. Under this, we give a grant of 20 lakh to the select schools over a period of five years to set up state-of-the-art labs, 3D printer, robotics, IoT devices, miniature devices, augmented virtual reality, do-it-yourself kit and more. The young students from grade six to 12 get exposed to new technologies through do-it-yourself kit which is a plug and play kit. While you quickly learn, you have an element of fun too. We do not impose any marks or grades. Students just come and create innovation, and we recognize those innovative talents while schools reward them. It is hear that students start applying their education concepts in real life to solve problems they see around them.
Different teams of four-five students are formed who identify the problems from the 17 sustainable goals and find solutions to fix them. Till date we have selected over 14,000 schools across the country covering 660 districts out of 733 in the country. 5,000 of these 14,000 schools have fully operational ATL.
How do you select the schools, Ramanan? And what about the schools who do not qualify for ATL? How do they get access to ATL?
We do not pick any school, but schools have to apply for it. To apply, they should meet our minimum criteria – internet connectivity, physics, chemistry & math labs, an ATL incharge, and minimum 500 students. This ensures that the ATL doesn't just become an ornament for the school, rather emerges as an active, vibrant hub for innovation and student participation. Today we have close to two and a half million students exposed to all the latest technologies, which we as students never had access to while studying.
Coming to your next question about the schools who do not qualify. Our model is that the schools having ATL need to share the facility with eight-10 surrounding schools of the area.