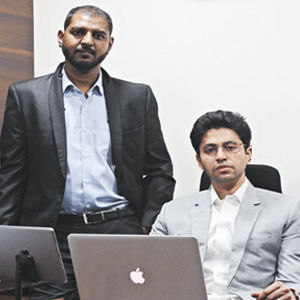 Hitesh Mittal
Vice President
Robert Cobb, once said, "If you can't show through an audit trail how you arrived at the numbers on your balance sheet, that is a significant internal control failure". Auditing refers to assessing or evaluation and examination of a company's systems, processes, and financial statements, usually performed by an external third party. Keeping up-to-date with all the requirements for the same is a process that needs to be monitored in a structured way.

It is also the key to maintaining trust and integrity in the world of auditors. This need has thus, in the past few decades, boosted the exponential growth of consultancy and auditing firms. However, the traditional firms in this sector charge hefty, take a lot of time, and do not provide 'one-stop' solutions for all the needs. In 2019, this shortfall thus gave birth to CertPro, a company of consultants and auditors, who deliver turnkey projects for all consulting and certification needs.

Beginnings Backed By Experience
CertPro was initially started as a partnership firm by K R Vijay Kumar and Santosh Kumar Mittal in 2012 who have decades of experience in the field of consulting and auditing. In 2019, the company was restructured as a Private Limited company and then headed by Hitesh Kumar Mittal and Rajesh Vijay Kumar. "We are a leading management consulting firm who deliver tailored services to help globalize local businesses. Our innovative and strategic solutions help businesses achieve their true potential", says Hitesh.

CertPro over the past few years has focused on offering tech-driven services. Even during the pandemic, the company was able to cater to its clients because of its adoption to tech-forward services. It has partnered with compliance automation firms to ensure on-time, efficient delivery. Recently, the company also opened its office in Oman to cater to clients in the Gulf region.

CertPro is currently exploring the African continent and will soon open its office in either South Africa or Nigeria. In the near future, it hopes to have in-house auditing capabilities for various other frameworks to cater to compliance automation firms and make a mark in the European market too. CertPro's work speaks for itself, and its clients are testimony to its legacy.
Industry Best Practices
According to Hitesh, the company's USP is its Information Security services. It has a team dedicated to Information Security with consultants from both management and technical backgrounds. The team has vast experience with software and IT related organizations of all sizes, and the approach is to ensure physical, digital and people security of the various kinds of information of an organization. CertPro offers services that are spread right from assessing and auditing to training and implementing standard organization requirements and industry best practices, including setting of budgets & timelines for milestones, and providing certification services for all kinds of projects and practices, globally.

The company has partnered with AICPA for SOC 2, CERTIn affiliated bodies for VAPT, an auditing team with more than a decade's experience for ISO 27001 and other related infosec standards. Hitesh himself is now CISA certified and hopes to build more such capabilities in-house across the organization. Besides, the other services at CertPro include Product Certification, Food Safety services, and QHSE. Its team for product certification focuses on technical classification of various products under CE, FDA and EAC. "With years of experience under our belt, we cater to all classes of products under the many directives of CE with end-to-end assistance on constructing a Technical File, preparation of DoC and validating Test Reports", adds Hitesh.

CertPro's food safety officers and auditors on the other hand, have a background in various domains of the food industry. From food manufacturing, packaging and distribution to restaurants, bakeries and food delivery services, the company has an organization covered for all aspects of HACCP, PRPs and OPRPs for both process implementation and documentation. In fact, there are certain specialized services they offer even to farm folk – GlobalGAP consultation and certification.

CertPro has a team of QHSE consultants and auditors who come from mechanical and engineering backgrounds with hands-on experience in managing teams for manufacturing sectors. The company also has consultants who have had exposure to the medical industry with insight into design, development, testing and distribution of medical devices. CertPro has completed projects of all sizes across all geographies for a vast array of industries under IMS.

Client Testimonials
Victor Immanuel, MD for Aussie Web Application in Australia, while appreciating CertPro said, "CertPro has been an invaluable partner, providing a unique approach, support and direction for our projects. I believe their strength is the ability to make complex projects simple, understanding our ways of working and providing solutions that meet and support companies' long-term goals".

As a team, we are constantly challenging each other to adapt to the ever changing new developments in our field, constantly growing and consistently catering to new segments of clientele

Another happy client opined, "CertPro proved outstanding at identifying key issues and putting together a process that allowed us to work in a structured way. A great deal of expertise and knowledge was contributed by the consultants and they engaged all staff members to bring in ISO standards' awareness".

Hitesh Mittal, Vice President
Hitesh, Principal Auditor Having started out with the likes of Goldman Sachs, has experience of over eight years in the field of auditing. Is currently a certified CISA, ISO 27001 LA, GDPR Assessor and HIPAA Assessor.